Der helle Wahnsinn - nach USA, Russland und China protzt jetzt auch noch Indien mit militärischen Provokationen:
"India has made an unprecedented achievement today," said Indian Prime Minister Narendra Modi in statement shortly after the successful test. "India registered its name as a space power."
What India's Anti-Satellite Test Means for Space Debris
Most of the debris generated by the test is expected to re-enter over the coming weeks. However, some of the fragments could prove troublesome for satellites in low-Earth orbit and astronauts aboard the International Space Station (ISS).
Wie verträgt sich das eigentlich mit der Outer Space Treaty von 1967?
The Outer Space Treaty represents the basic legal framework of international space law. Among its principles, it bars states party to the treaty from placing weapons of mass destruction in Earth orbit, installing them on the Moon or any other celestial body, or otherwise stationing them in outer space. It exclusively limits the use of the Moon and other celestial bodies to peaceful purposes and expressly prohibits their use for testing weapons of any kind, conducting military maneuvers, or establishing military bases, installations, and fortifications (Article IV).
Aber hier ist das Schlupfloch:
However, the treaty does not prohibit the placement of conventional weapons in orbit and thus some highly destructive attack strategies such as kinetic bombardment are still potentially allowable.
Credit: Wikipedia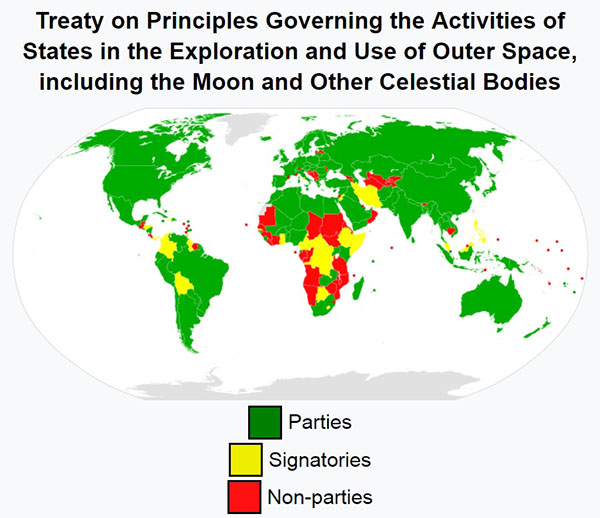 Zuletzt bearbeitet: